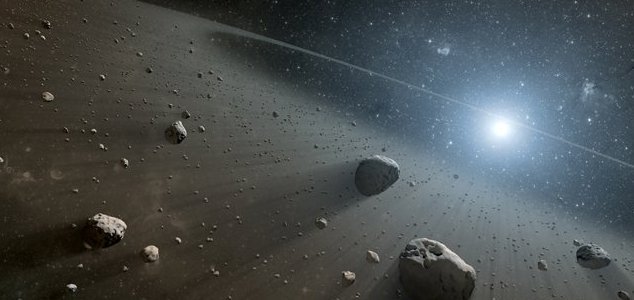 Could a large number of smaller objects be responsible ?

Image Credit: NASA/JPL-Caltech
Scientists have come up with an alternative explanation for the peculiar orbits of some distant objects.
Nobody knows exactly where it is, how big it is or if it even exists at all, but when researchers at the California Institute of Technology revealed in 2016 that the existence of a ninth planet in our solar system was a very real possibility, the hunt for this enigmatic new world began in earnest.
Believed to be up to ten times the mass of the Earth and with an orbital period of up to 20,000 years, Planet Nine, if it exists, will be situated somewhere beyond the orbit of Neptune.
Now though, two astrophysicists - Jacob Fleisig and Ann-Marie Madigan of the University of Colorado Boulder - have put forward an argument to suggest that Planet Nine may not actually exist after all.
Perhaps the most important piece of evidence in favor of Planet Nine's existence is the unusual way various objects in the outer solar system move, as if influenced by the gravity of a hidden planet.
According to Fleisig and Madigan however, this peculiar movement could be explained by the collective gravitational influence of a number of smaller objects rather than a single large one.
"There could be thousands of these (smaller) bodies out there waiting to be detected," said Fleisig.
"You see a pileup of the orbits of smaller objects to one side of the Sun. These orbits crash into the bigger body, and what happens is those interactions will change its orbit from an oval shape to a more circular shape."
The dwarf planet Sedna is one planetary body thought to have been influenced in this way and the same processes could have even been responsible for the apocalyptic asteroid that wiped out the dinosaurs at the end of the Cretaceous.
"It's tantalizing," said Fleisig.
Source: Nature.com | Comments (28)
Similar stories based on this topic:
Tags: Planet Nine