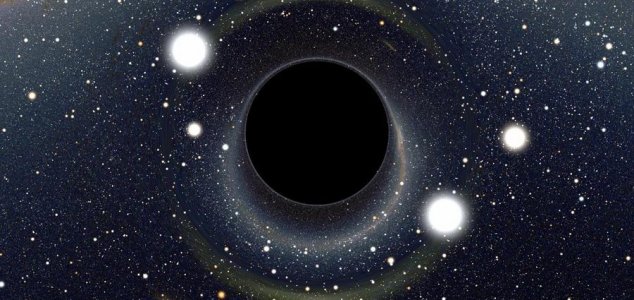 Is there a tiny black hole lurking beyond the orbit of Neptune ?

Image Credit: NASA / Alain Riazuelo
The undiscovered theoretical planet in the outer reaches of our solar system may actually be a black hole.
Nobody knows exactly where it is, how big it is or if it even exists at all, but when researchers at the California Institute of Technology revealed in 2016 that the existence of a ninth planet in our solar system was a very real possibility, the hunt for this enigmatic new world began in earnest.
Believed to be up to ten times the mass of the Earth and with an orbital period of up to 20,000 years, Planet Nine, if it exists, will be situated somewhere beyond the orbit of Neptune.
But what if this enigmatic body wasn't actually a planet at all ?
In a new paper, two scientists have put forward the theory that 'Planet Nine' could in fact be a miniature black hole - one that would be no larger than a bowling ball.
Known as 'primordial black holes', these theoretical objects could have formed from the chaos of the universe's earliest days rather than from the collapse of a massive star - hence their small size.
If Planet Nine really was a tiny black hole, it would explain why astronomers have been having such a difficult time locating it - not only would it be imperceptibly small, but it would also be invisible.
"By simply focusing on the concept of a planet, you restrict the experimental search that you're undertaking," study co-author James Unwin told
Gizmodo
.
"Once you start thinking about more exotic objects, like primordial black holes, you think in different ways. We advocate that rather than just looking for it in visible light, maybe look for it in gamma rays. Or cosmic rays."
Source: Gizmodo | Comments (7)
Similar stories based on this topic:
Tags: Planet Nine, Black Hole