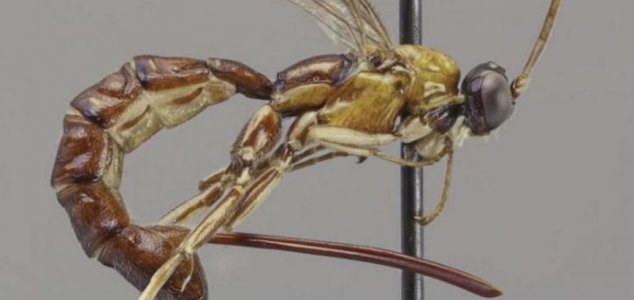 The wasp's stinger is almost as long as its body.

Image Credit: Kari Kaunisto / University of Turku
Scientists have discovered a new species of wasp that lays its eggs on spiders using its massive stinger.
Found deep in the Amazon rainforest, the new species was discovered by researchers from the University of Turku in Finland and has been named
Clistopyga crassicaudata
.
"I have studied tropical parasitoid wasps for a long time, but I have never seen anything like it," said Professor Ilari E. Saaksjarvi. "The stinger looks like a fierce weapon."
According to the report, the wasp's enormous appendage is capable of stinging a victim numerous times and, in addition to injecting venom, can also be used to lay eggs.
Typically the insect will find a spider, paralyze it with venom and then lay its eggs on top of it. When they eventually hatch, the larva will eat the spider alive as well its own eggs or hatchlings.
Suffice to say, this is one insect that you really don't want to tangle with.
Source: Popular Mechanics | Comments (7)
Similar stories based on this topic:
Tags: Wasp, Stinger