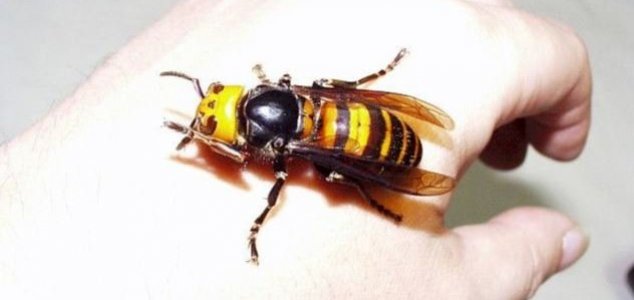 You don't want to find one of these at your bedroom window...

Image Credit: CC BY 2.0 Justin Lindsay / Flickr
The battle to stop these giant, invasive wasps from gaining a foothold in the United States is heating up.
Measuring 1.8 inches long and with a venomous stinger quarter-of-an-inch in length, the 'murder hornet' can actually prove lethal to humans and is responsible for up to 50 deaths a year in Japan.
In addition, these predatory insects are known to attack honey bees which (unlike their Japanese counterparts) have no innate defense against them.
Preventing them from gaining a strong foothold in the United States, therefore, is very important.
Now workers at the Washington State Department of Agriculture (WSDA) have reported that they have found and destroyed a large nest of these gigantic flying insects in the base of a dead alder tree to the east of the city of Blaine in rural Whatcom County.
Inside, they discovered around 180 adult hornets and 1,500 larvae.
Due to their large stingers, it was necessary for the workers to suit up in protective gear and use a vacuum to hoover up the insects, their larvae and the nest structure.
The hunt is now on for other nests in the surrounding area.
"While we are glad to have found and eradicated this nest so early in the season, this detection proves how important public reporting continues to be," said WSDA entomologist Sven Spichiger.
"We expect there are more nests out there and, like this one, we hope to find them before they can produce new queens."
Source: Live Science | Comments (13)
Similar stories based on this topic:
Tags: Hornet