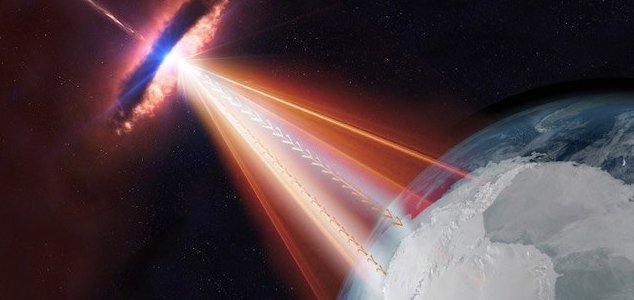 The particle was detected by the IceCube observatory in Antarctica.

Image Credit: IceCube/NASA
A particle that has traveled from deep space could help scientists to unravel the mysteries of the universe.
Known as a neutrino, the ghost-like subatomic particle was picked up by an international team of scientists at the IceCube observatory - a huge facility situated a mile beneath the South Pole.
Neutrinos are particularly difficult to detect because they pass straight through just about everything.
By analyzing its trajectory and tracing its path through space, the scientists were able to track the particle back to an extremely energetic galaxy situated four billion light years away.
The research could finally solve one of the most enduring mysteries is cosmology - the origin of galactic cosmic rays - as well as provide a new way to peer in to the depths of space.
The breakthrough, coupled with the recent detection of gravitational waves, has the potential to open up a whole new world of astrophysics that simply wasn't possible before.
"Neutrinos rarely interact with matter," said Professor Paul O'Brien. "To detect them at all from the cosmos is amazing, but to have a possible source identified is a triumph. This result will allow us to study the most distant, powerful energy sources in the universe in a completely new way."
Source: Independent | Comments (4)
Tags: Cosmic Rays, Ghost Particle