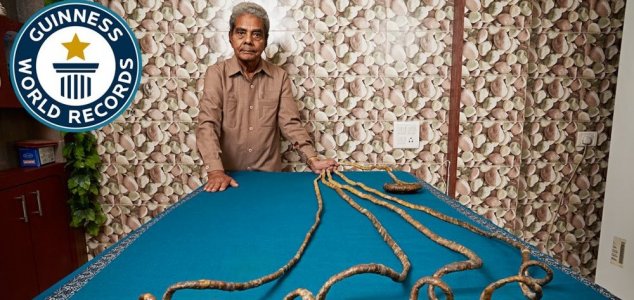 The incredibly long nails will go on display.

Image Credit: YouTube / Guinness World Records
After growing them for 66 years, Shridhar Chillal has taken the decision to donate his nails to a museum.
Chillal, who hails from India, last cut his record-breaking fingernails back in 1952 and has since maintained them on one hand for the better part of seven decades.
The nails measure a combined length of 909.6 centimeters (almost the length of a London bus) with the curved thumbnail being the single longest at 197.8 centimeters.
He finally took the decision to have his nails trimmed after suffering a series of health problems as a result of their enormous weight including nerve damage and a loss of function in his left hand.
The nails were removed using a power tool during a special 'nail clipping ceremony' at a Ripley's Believe It or Not! museum in New York where they will go on display for visitors to view.
A look back at Chillal's remarkable life with the nails can be viewed below.
Source: The Guardian | Comments (14)
Tags: Fingernails, World Record