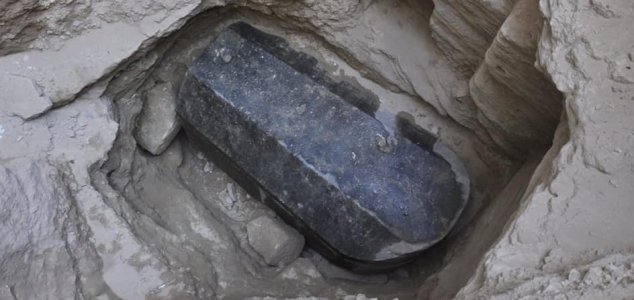 What's inside this sarcophagus ?

Image Credit: Facebook / Egypt Ministry of Antiquities
The huge black granite sarcophagus was unearthed in Alexandria and nobody yet knows what's inside it.
Measuring a whopping 9ft long, 5ft wide and 6ft tall, the casket, which was unearthed at a building site following a preliminary inspection by a team from Egypt's antiquities ministry, is believed to be the largest sarcophagus ever found in the city.
Dating back around 2,000 years, the coffin was found covered in a thick layer of mortar, suggesting that it hasn't been opened since it was first buried in the ground. If this turns out to be the case, then there is a chance that it contains, not only human remains, but priceless artefacts as well.
An alabaster head, which may depict the deceased, was also found in the tomb.
Some have speculated that, due to the time period in which it was buried, there is a chance that the sarcophagus may contain the body of someone connected to Alexander the Great.
The reason for its enormous size however continues to remain something of an enigma.
It will be interesting to see what is found inside when the casket is opened in the near future.
Update - Giant Egyptian sarcophagus has been opened
Source: Live Science | Comments (187)
Similar stories based on this topic:
Tags: Egypt, Sarcophagus