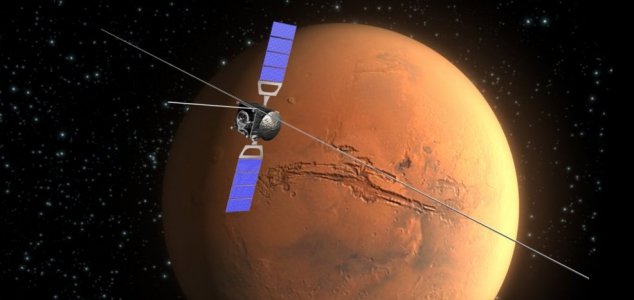 The discovery was made using the Mars Express orbiter.

Image Credit: ESA
Scientists believe that they have identified a body of water situated beneath the planet's south polar ice cap.
While Mars is known to have been covered in lakes, rivers and oceans in its distant past, this is the first time that evidence has been found of a persistent body of liquid water in the present day.
"It's probably not a very large lake," said study leader Professor Roberto Orosei from the Italian National Institute for Astrophysics.
Discovered using a special radar instrument on ESA's Mars Express orbiter, the lake is thought to be around 12 miles across and at least one meter deep.
"This really qualifies this as a body of water," said Prof Orosei. "A lake, not some kind of meltwater filling some space between rock and ice, as happens in certain glaciers on Earth."
It remains unclear what sort of conditions might be found in the lake, however in order to remain liquid in such cold temperatures, it is likely to contain a very large amount of salt.
"We are not closer to actually detecting life," said Dr Manish Patel from the Open University.
"But what this finding does is give us the location of where to look on Mars. It is like a treasure map - except in this case, there will be lots of 'X's marking the spots."
Source: BBC News | Comments (10)
Similar stories based on this topic:
Tags: Mars