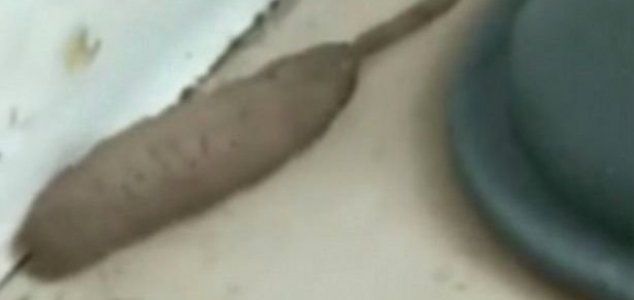 What the heck is this thing ?

Image Credit: Facebook / Bex Deen / ViralVideoUK
Footage showing a weird creature wriggling around on the floor has gone viral after being uploaded online.
The disgusting five-inch-long critter was filmed by Bex Deen in Southampton, England.
"Found this slithering round in my porch," she wrote. "Feel like I'm in an episode of Stranger Things."
It turns out that this rather peculiar creepy-crawly is actually an insect known as a rat-tailed maggot. It is the larval stage of a type of hoverfly that resembles a honey bee when it is fully matured.
What makes this one particularly unusual is its large size - most only grow to around 2 inches.
The long 'tail' is actually a tube that the creature uses to breath while submerged in water.
Source: Sputnik International | Comments (22)
Tags: Rat, Maggot, Worm