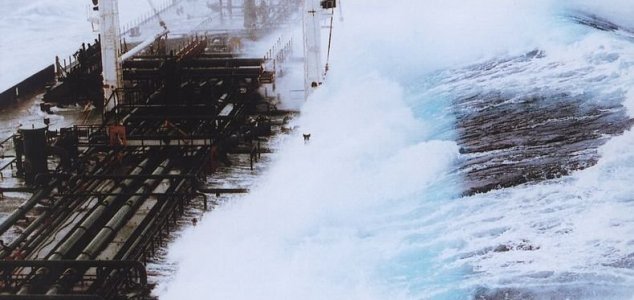 Could rogue waves explain the Bermuda Triangle mystery ?

Image Credit: NOAA / Captain Roger Wilson
British scientists have put forward the notion that 100ft 'rogue' waves are responsible for the phenomenon.
There are few mysteries as enduring and as well known as the Bermuda Triangle - an expanse of ocean in the North Atlantic that spans the area between Florida, Bermuda and Puerto Rico.
Over the years the region has become synonymous with the unexplained disappearances of ships and airplanes - often with no trace of them or their crews ever being found.
Now though, scientists at the University of Southampton in England have come up with a new explanation for these disappearances and it is all to do with so-called "rogue" waves.
These sudden, enormous waves, which can measure up to 100ft high, were first observed in 1997 and can show up unexpectedly out of nowhere with the destructive power to sink even the largest of ships.
To test their theory, the researchers created a model of the USS Cyclops - a huge vessel that went missing in the Bermuda Triangle in 1918 along with its 300 crew members.
By simulating a rogue wave in the laboratory, which quickly overwhelmed and sunk the model ship, they were able to demonstrate that this could explain how ships have disappeared in the area.
What's more, the Bermuda Triangle has conditions conducive to the formation of such waves.
"There are storms to the south and north, which come together," said Dr. Simon Boxall. "And if there are additional ones from Florida, it can be a potentially deadly formation of rogue waves."
"They are steep, they are high - we've measured waves in excess of 30 meters."
Source: Fox News | Comments (23)
Similar stories based on this topic:
Tags: Bermuda Triangle