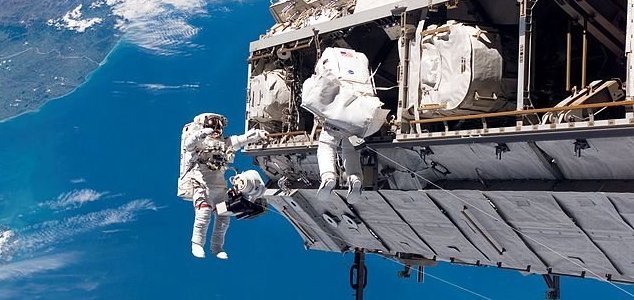 Could someone on the station have drilled the hole deliberately ?

Image Credit: NASA
Russian authorities are working to determine if a rogue astronaut may have intentionally drilled the hole.
When a reduction in cabin pressure lead to the discovery of a small leak in the Soyuz MS-09 spacecraft docked at the International Space Station last week, it was initially assumed that a micrometeorite impact was to blame.
An investigation however later revealed that the hole had been made by a drill, suggesting that someone had accidentally damaged the capsule during construction and had tried to cover it up.
But what if it wasn't an accident ? What if someone had drilled the hole deliberately ?
According to Dmitry Rogozin, head of Russia's Roscosmos space agency, there had actually been "several attempts at drilling" the hole by someone with a "wavering hand".
"What is this: a production defect or some premeditated actions?" he said. "We are checking the Earth version. But there is another version that we do not rule out: deliberate interference in space."
The idea that someone may have tried to sabotage the spacecraft is troubling enough, but the possibility that one of the astronauts was responsible is particularly disturbing.
"If a cosmonaut pulled this strange stunt - and that can't be ruled out - it's really bad," said Russian MP and former cosmonaut Maxim Surayev. "I wish to God that this is a production defect, although that's very sad too - there's been nothing like this in the history of Soyuz ships."
Source: The Guardian | Comments (47)
Tags: ISS, Leak