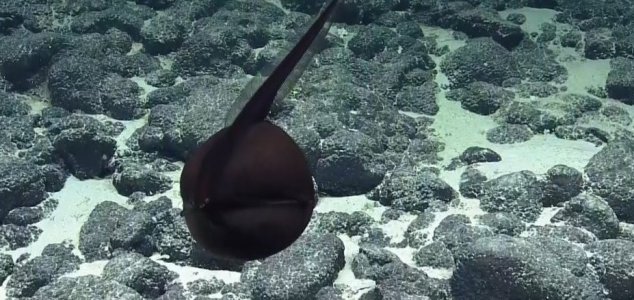 This is one strange looking fish.

Image Credit: YouTube / EVNautilus
A deep sea remote-operated vehicle recently captured footage of a unique species of eel with a very big mouth.
This remarkable creature was discovered by researchers aboard the Exploration Vessel (E/V) Nautilus during an expedition to Hawaii's Papahanaumokuakea Marine National Monument - a mostly unexplored coral garden situated 6,200ft beneath the surface of the Pacific.
When the research team first happened upon the eel, it looked so strange that nobody was quite sure what it was they were seeing. It wasn't until the animal started to reduce back to its regular size that it was possible to determine that it was in fact a gulper eel.
This unusual species has the ability to engulf large amounts of water both to help it hoover up smaller prey and to deter any would-be predators by making itself look much larger than it actually is.
Its peculiar appearance has earned it the nickname 'muppet of the deep sea'.
Source: Gizmodo | Comments (3)
Tags: Gulper Eeel, Nautilus