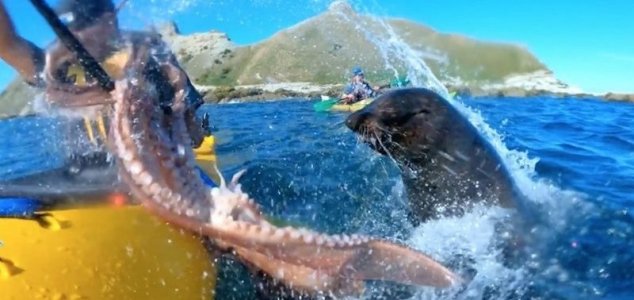 This must have hurt.

Image Credit: Instagram / taiyomasuda / Kyle Mulinder
A kayaker in New Zealand got the shock of his life when a seal suddenly 'attacked' him in a very unexpected way.
Kyle Mulinder had been enjoying a day out on the ocean with his friends off the coast of Kaikoura when they noticed the seaborne mammal wrestling with a large octopus in the water nearby.
Suddenly, without warning, the seal lurched out of the water next to his kayak and slapped him square in the face with the cephalopod before disappearing again beneath the waves.
"I was like 'mate, what just happened?'" Mulinder told Australia's Seven News. "It was weird because it happened so fast but I could feel all the hard parts of the octopus on my face."
Luckily, his boat had been equipped with a camera which managed to capture the incident on film.
According to wildlife experts, the reason the seal slapped him was because, far from holding a grudge, it was simply trying to stun or tear up the octopus by forcefully hitting it against a solid object.
Source: Irish Times | Comments (14)
Similar stories based on this topic:
Tags: Octopus, Seal