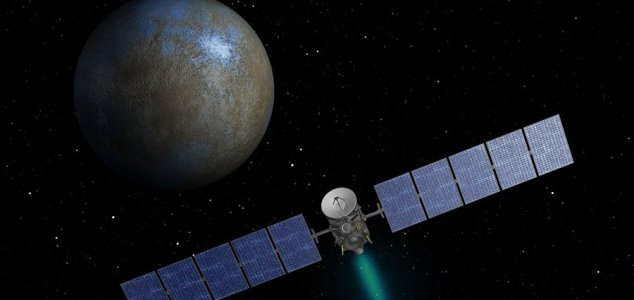 An artist's impression of Dawn approaching Ceres.

Image Credit: NASA/JPL-Caltech
After spending years unravelling the mysteries of the dwarf planet Ceres, Dawn has finally run out of fuel.
Launched back in September 2007, Dawn's goal was to explore two of the three largest objects in the asteroid belt between Mars and Jupiter.
It entered in to orbit around the asteroid Vesta in 2011 before arriving at Ceres four years later.
During its mission, Dawn helped to discover a great many things about these enigmatic bodies including the presence of sodium carbonate deposits on Ceres' surface which appeared as bright spots in photographs taken by the spacecraft during its approach.
The demise of the probe was reported this week after it failed to make contact during two scheduled communications sessions on October 31st and November 1st.
NASA concluded that Dawn's hydrazine fuel supply had run out, meaning that it can no longer aim its antennae towards the Earth or turn its solar panels towards the Sun to recharge its batteries.
"Today, we celebrate the end of our Dawn mission - its incredible technical achievements, the vital science it gave us, and the entire team who enabled the spacecraft to make these discoveries," said Thomas Zurbuchen, associate administrator of NASA's Science Mission Directorate.
"The astounding images and data that Dawn collected from Vesta and Ceres are critical to understanding the history and evolution of our solar system."
Source: Phys.org | Comments (14)
Similar stories based on this topic:
Tags: Dawn, Ceres