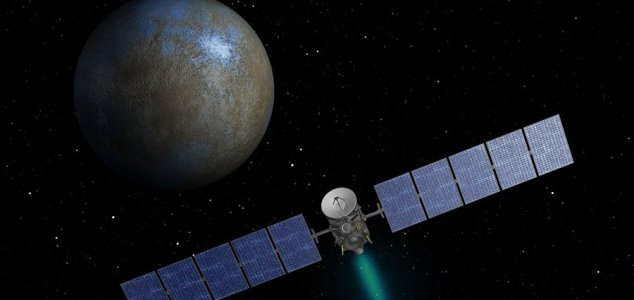 Ceres is a world shrouded in mystery and intrigue.

Image Credit: NASA/JPL-Caltech
NASA's Dawn spacecraft has found carbon-based materials similar to those found on the early Earth.
The largest object in the asteroid belt between Mars and Jupiter, Ceres has been the subject of much intrigue recently thanks to its mysterious bright spots and anomalous surface features.
Now scientists have revealed the discovery of materials similar to those thought to have made up the building blocks of life here on Earth. The find is important as it suggests that the early solar system was potentially rich in the chemicals needed for life to develop.
"The discovery indicates that the starting material in the solar system contained the essential elements, or the building blocks, for life," said mission lead scientist Christopher Russell.
The materials in question were discovered inside a 31-mile-wide crater on the dwarf planet's surface and scientists do not believe that they were deposited there by an asteroid or comet.
This means that it is even possible that Ceres itself may have harbored life in the distant past.
Source: Sky News | Comments (11)
Tags: Dawn, Ceres