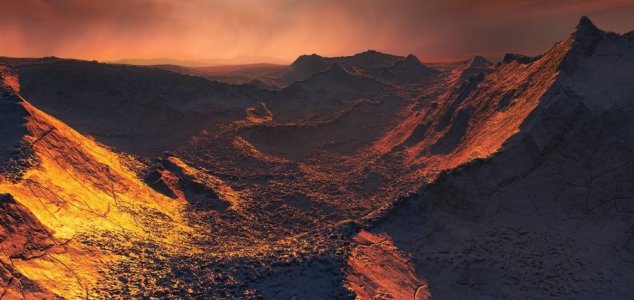 An artist's impression of the surface of the new planet.

Image Credit: M. Kornmesser/ESO
Astronomers have revealed the discovery of a 'super-Earth' around a star that is a mere six light years away.
Believed to be approximately three times the mass of our own planet, this icy extrasolar world orbits Barnard's star at around the same distance as Mercury orbits the Sun in our own solar system.
The discovery is particularly important because planets around neighboring stars will be prime candidates for direct observation by the next generation of telescopes.
"We think that this is what we call a Super-Earth - that would be possibly a mostly rocky planet with a massive atmosphere," said Dr Anglada Escude from London's Queen Mary University.
"It's probably very rich in volatiles like water, hydrogen, carbon dioxide - things like this."
Based on the distance alone, scientists estimate that the surface temperature could be as little as -150C, however it is possible that the planet's atmosphere could help to warm things up.
"On the surface, the temperature could be much higher," said Dr Escude.
"There can be surprises, so we have to keep an open mind when trying to characterise this planet."
Source: BBC News | Comments (25)
Similar stories based on this topic:
Tags: Exoplanet