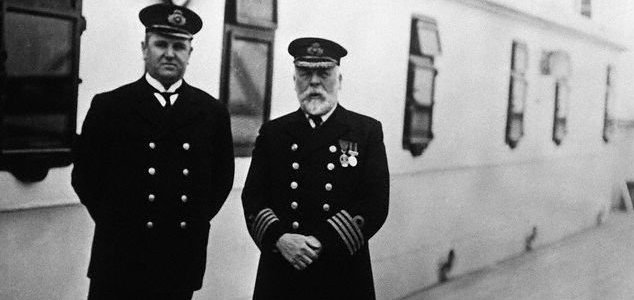 Smith (right) aboard the Titanic before its untimely demise.

Image Credit: Francis Browne
A mirror that reportedly belonged to Captain Edward John Smith is expected to fetch over $12,000.
The historic keepsake was left on the captain's dressing table at his home in Stoke-on-Trent, England when the ill-fated vessel embarked on its maiden voyage across the Atlantic back in 1912.
It was later taken by one of his servants - a maid named Ethelwynne - in leiu of the wages she was owed. According to a letter penned by her sister-in-law Hilda however, the mirror had taken on something of a life of its own and the captain's image would often appear in the glass.
"She [Ethelwynne] always spooked me when she said that at times, she could still see Captain Smith's face in it on the anniversary of when the Titanic was sunk," Hilda wrote.
The mirror is set to be sold for a sizable sum at Richard Winterton Auctioneers in December.
"The last time Captain Edward John Smith saw his own noble, bearded visage before leaving home to take the helm of the Titanic was possibly in this very mirror," said auctioneer Richard Winterton.
"Even with one's feet firmly on land and in the sunshine of a clear afternoon, there is something otherworldly about seeing your own reflection in such an object."
Source: myjoyonline.com | Comments (15)
Similar stories based on this topic:
Tags: Titanic, Captain