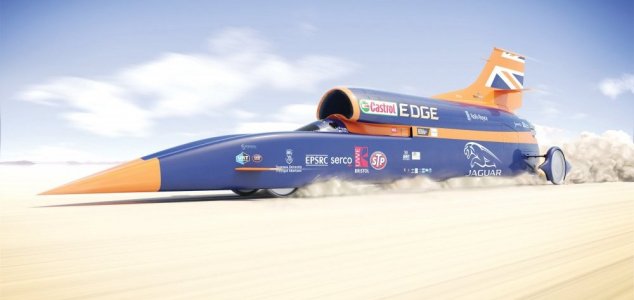 There is a chance that the car could still break the speed record.

Image Credit: YouTube / Bloodhound SSC
The highly ambitious Bloodhound SSC has now gone up for sale following a spate of financial difficulties.
Developed through a collaboration between 280 companies worldwide, the vehicle was meticulously designed with the goal of breaking the land speed record in spectacular fashion.
To achieve this, Bloodhound was to use its Rolls-Royce jet turbine engine to take it up to speeds of around 300mph before activating its powerful rocket engine to propel it the rest of the way.
The vehicle's third engine, a supercharged V8 Jaguar F-Type, had been designed to supply the rocket with hydrogen peroxide fuel at it went along.
Together the three engines would have been capable of producing 133,151bhp - the equivalent to 180 Formula One cars, while propelling the car at a speed that would cover a mile in just 3.6 seconds.
Now though, following an ongoing series of financial problems, the project has had to be scrapped, leaving the record unbroken and the vehicle itself on the market for a quarter of a million pounds.
It will take several million more to get the vehicle ready to attempt its 1,000mph run, but if the right backer picks it up and can fund it further there is a chance that it could still happen.
"If somebody is out there with a quarter of a million there is a car there," said driver Andy Green. "There is still a chance that Bloodhound could run."
"As far as Christmas presents go, that's the one I'd like."
Source: BBC News | Comments (16)
Tags: Bloodhound