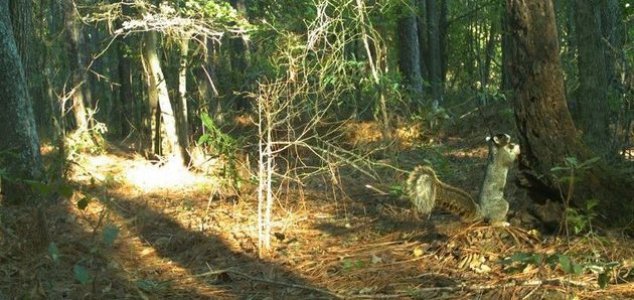 How big is this squirrel ?

Image Credit: Facebook / North Carolina's Candid Critters
A photograph of an eastern fox squirrel alleged to be a whopping 2ft tall has been raising eyebrows recently.
The picture, which was originally uploaded on to Facebook back on November 16th by
North Carolina's Candid Critters
, shows a sizable eastern fox squirrel standing upright next to a tree.
Not long afterwards, several newspapers started running a story suggesting that the squirrel was in fact 2ft in height, a size which far exceeds that of any known specimen of this particular species.
The 'giant squirrel' story ended up gaining a great deal of attention, even leading to suggestions that it could be some sort of new species or an individual squirrel afflicted with gigantism.
As it turns out however, the reports about its enormous size were all wrong.
According to
Candid Critters
, the quoted size is actually the squirrel's length, not its height.
"The total length, from tip of nose to end of tail, can be 2 feet," the organization wrote. "Even when sitting upright, or stretching while on hind feet they do not reach two feet in height."
Source: Huffington Post | Comments (0)
Tags: Squirrel