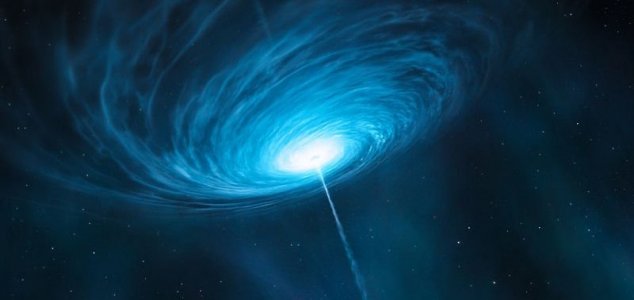 An artist's impression of a quasar.

Image Credit: ESO/M. Kornmesser
The Hubble Space Telescope has picked up the brightest quasar ever detected in the early universe.
The extremely luminous nucleus of an active galaxy, a quasar is produced by the energy released by gas falling towards the supermassive black hole at a galaxy's center.
It's a phenomenon unlike any other - producing a level of brightness equivalent to trillions of suns.
This particular quasar, which is known as J043947.08+163415.7, is situated so far away that the light we are seeing from it started its journey when the universe was a mere 1 billion years old.
This means that it can potentially teach us much about how galaxies came to form.
According to lead author Xiaohui Fan, it is unlikely we will find anything much brighter than this.
"That's something we have been looking for a long time," he said. "We don't expect to find many quasars brighter than that in the whole observable universe."
"Its properties and its distance make it a prime candidate to investigate the evolution of distant quasars and the role supermassive black holes in their centers had on star formation."
Source: Sky News | Comments (3)
Tags: Quasar, Hubble