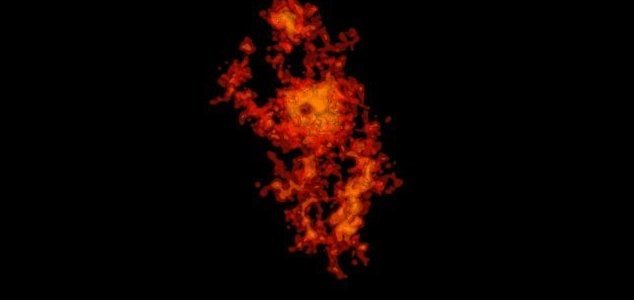 A 3D model of a quasar halo.

Image Credit: YouTube / European Southern Observatory
The discovery has the potential to challenge what we currently know of how early galaxies formed.
Quasars are highly luminous, energetic and distant active galaxies containing supermassive black holes which draw in and consume large quantities of gas and materials at a very high rate.
Previously only around a tenth of these objects were believed to be surrounded by a glowing halo, but now new observations by an international team of astronomers using the Muse instrument on the Very Large Telescope (VLT) in Chile have revealed that all quasars may in fact have them.
The study, which was led by a group at the Swiss Federal Institute of Technology in Zurich, aimed to find out more about gas clouds around distant active galaxies in the early universe.
The fact that every quasar the team observed seemed to have a halo around it could suggest that there is still a great deal we do not yet understand about how these galaxies originally formed.
"It is still too early to say if this is due to our new observational technique or if there is something peculiar about the quasars in our sample," said lead author Elena Borisova.
"So there is still a lot to learn; we are just at the beginning of a new era of discoveries."
Source: Wired.co.uk | Comments (6)
Tags: Quasar, Galaxy