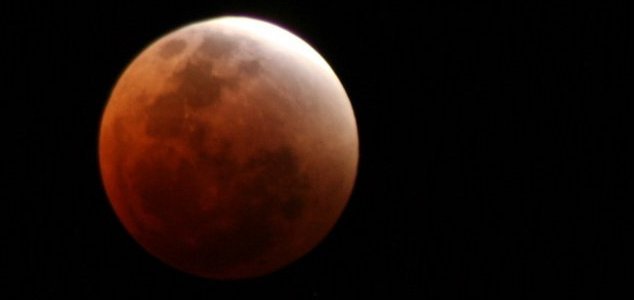 This month's blood moon should be quite spectacular.

Image Credit: CC BY-SA 2.0 Peter Gaylard
A lunar eclipse with a rather unusual name will be visible in the Western Hemisphere on January 20th.
The striking astronomical phenomenon, which occurs only relatively rarely, has been at the center of doomsday prophecies and end-of-the-world scenario predictions for centuries.
The term 'blood moon' is a reference to the striking dark red color that occurs when the Moon is in the Earth's shadow, while the term 'wolf' means that it is the first full moon of the year - especially one that occurs in January - a time typically associated with long nights and the sound of wolves howling.
This time around the blood moon will also be a supermoon - meaning that it will appear larger in the sky because it coincides with the closest distance that the Moon reaches in its orbit around the Earth.
Some cultures have come to regard a blood moon as a negative omen or a sign of impending doom.
Much of this stems from passages in the Bible, such as the Book of Joel which states
"The sun will turn into darkness, and the moon into blood, before the great and terrible day of the Lord comes."
On a similar vein, a passage from the Book of Revelations reads
"And I beheld when he had opened the sixth seal, and, lo, there was a great earthquake; and the sun became black as sackcloth of hair, and the moon became as blood."
Suffice to say however, such predictions are baseless - a blood moon is a harmless natural process.
For details on when and where to see it, check out the video below.
Source: CNET.com | Comments (3)
Tags: Blood Moon