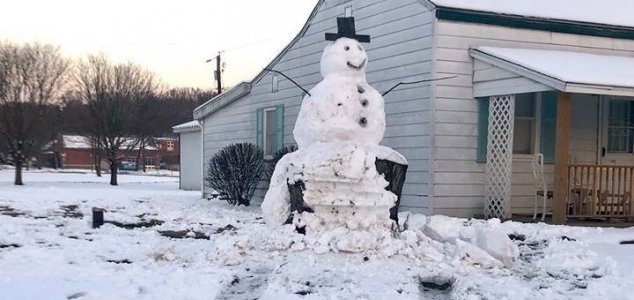 The vandals will likely be facing a significant repair bill.

Image Credit: Facebook / Cody Lutz Media
Vandals who attempted to ram a 10ft snowman with their car ended up getting more than they bargained for.
The peculiar series of events began following a period of heavy snowfall in Petersburg, Kentucky.
Cody Lutz, along with his soon-to-be-wife Laura from Mississippi who had been visiting him, had decided to make the most of the weather by constructing a giant snowman in their back yard.
By building it atop a large tree stump, they were able to make their creation almost 10ft tall.
A short while later however, Lutz arrived home to find that someone had seemingly taken a dislike to the snowman as evidenced by two tyre tracks leading up to it through the garden.
What the would-be vandals hadn't accounted for however was the tree stump base.
The snowman had survived intact, which is more than can be said for the perpetrators' car.
"Frosty certainly had the last laugh!" said Lutz.
Source: CBS News | Comments (5)
Similar stories based on this topic:
Tags: Snowman