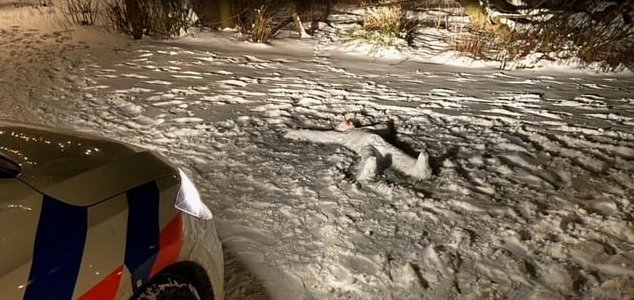 Not your typical snowman.

Image Credit: Facebook / Politie Amsterdam Oost Watergraafsmeer
Police in the Netherlands were out on patrol recently when they spotted a person lying lifeless in the snow.
Most people will have gone out into the snow to build a snowman at some point in their lives, but for one creative snowman builder in the Netherlands recently, the a-typical design of stacked balls of snow with a hat, carrot, two sticks and a scarf just wasn't good enough.
So creepily realistic was their design that even the local police had to stop to investigate.
"Last evening, a car from our team was surveillance through the Oosterpark, until they suddenly saw a person lying lifeless on the ground in the distance," Amsterdam Police wrote on Facebook.
"A victim of a crime? Had anyone become unwell?"
"After our colleagues approached the 'body' they saw that barrier tape or ambulance could happily be omitted... it was a good example of 'creative with snow', including orange carrot!"
"In any case, the colleagues could laugh about it."
Source: NL Times | Comments (3)
Similar stories based on this topic:
Tags: Snowman