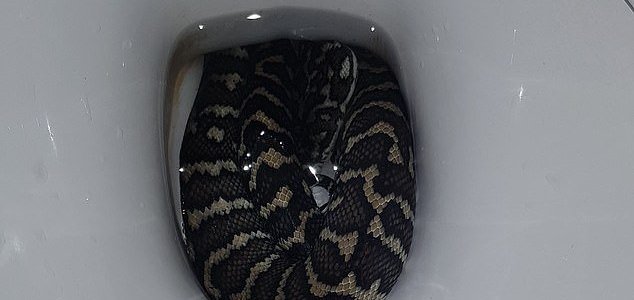 Check the bowl before sitting down...

Image Credit: Jasmine Zeleny / Snake Catchers Brisbane / Facebook
59-year-old Helen Richards got the surprise of her life when the reptile sank its fangs in to her posterior.
Richards, who lives in Brisbane, Australia, had been paying a visit to the lavatory at a relative's house on Tuesday when she felt a "sharp tap" on her behind and literally jumped off the toilet seat.
"I jumped up with my pants down and turned around to see what looked like a longneck turtle receding back into the bowl," she told a local newspaper.
Fortunately snake handler Jasmine Zeleny was soon on the scene to remove the creature.
"Unfortunately, the snake's preferred exit point was blocked after being spooked by Helen sitting down, and it lashed out in fear," she said. "By the time I got there, she had trapped the snake and calmed down. Helen treated the whole situation like a champion."
As luck would have it, the snake was only a carpet python, meaning that its bite wasn't dangerous.
According to Zeleny, it is common for snakes to seek refuge in toilet bowls during very hot weather.
As such, checking the bowl before sitting down would seem to be a wise precaution.
Source: BBC News | Comments (8)
Tags: Snake, Toilet, Australia