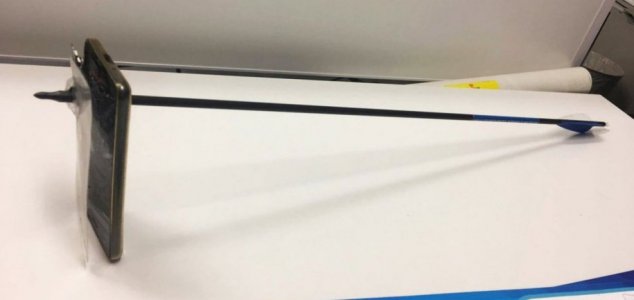 It turns out that mobile phones can save lives.

Image Credit: New South Wales Police
A 43-year-old man in Australia narrowly escaped death this week after his phone was hit by an incoming arrow.
The man's remarkable dice with death occurred in the town of Nimbin in New South Wales on Wednesday after he was confronted outside his house by an attacker who was armed with a bow.
As he raised his mobile phone to take a photograph, the assailant fired an arrow which, through a remarkable stroke of luck, happened to strike the device instead of him.
The phone was knocked back in to the man's face, cutting him, but he was otherwise unscathed.
According to police reports, the attacker was later arrested at the scene.
He has since been charged with armed assault and will appear in court next month.
Source: BBC News | Comments (11)
Similar stories based on this topic:
Tags: Phone, Arrow