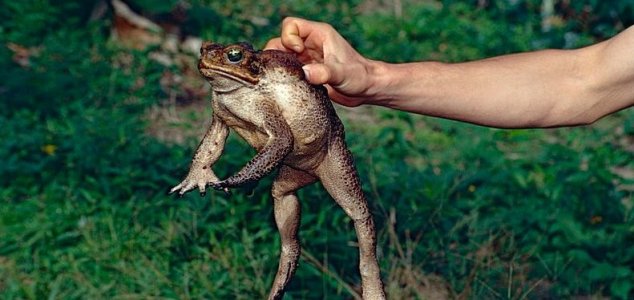 Cane toads can grow to quite a size.

Image Credit: CC BY-SA 2.0 Bernard DUPONT
A South Florida neighborhood has been besieged this month by countless thousands of poisonous cane toads.
The toxic amphibians, which arrived in the United States over 60 years ago, have been multiplying to such an extent recently that in some areas they have managed to cover every square inch of ground.
The city of Palm Beach Gardens has borne the brunt of the invasion with thousands of toads turning up in people's gardens, swimming pools and drainage outlets.
What makes the problem worse is that the toads secrete a toxic substance when threatened which, in addition to irritating the skin and eyes, can prove particularly deadly to cats and dogs if ingested.
Experts believe that the warmer winter and recent heavy rains are to blame for the infestation and that the toads themselves are coming from a nearby lake.
Residents have been warned to keep pets and small children away from them.
Source: Washington Post | Comments (12)
Tags: Cane Toads, Florida