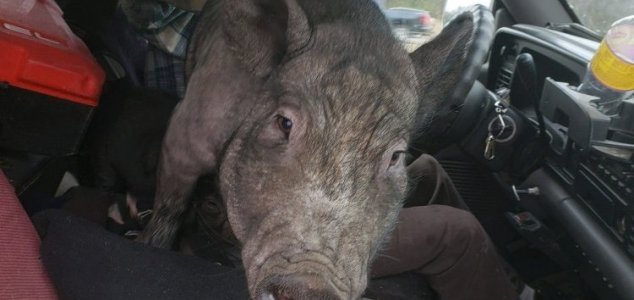 Driving along with your pig on your lap... as you do.

Image Credit: Twitter / Chisago Co Sheriff
A driver who had been stopped for driving erratically was found to be sharing his front seat with a 250-pound pig.
Police officers in Minnesota couldn't believe their eyes recently when they pulled over a vehicle to find that the driver had been cruising along with a large pig sitting on top of him.
A second, smaller pig was also spotted standing next to the front seat.
The driver explained that he hadn't wanted the animals to get cold during the trip.
The Chisago County Sheriff's Office later posted up a Tweet emphasizing that while officers have encountered drivers distracted by everything from using a mobile phone to putting on makeup, a person driving their car with a pig on their lap was definitely a first.
Despite driving dangerously however, the man ultimately got off with just a warning.
Source: Huffington Post | Comments (7)
Tags: Pig, Driver