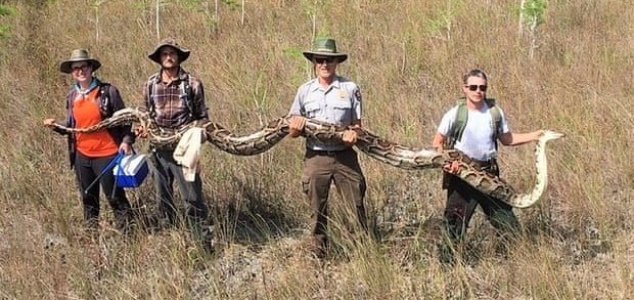 This is one enormous snake.

Image Credit: Facebook / Big Cypress National Preserve
The huge snake was tracked down by a team at the Big Cypress National Preserve in the Florida Everglades.
Thought to be the largest snake ever found in the region, this gargantuan pregnant female python measures just over 17ft in length and weighs in at a whopping 140lb.
Burmese pythons are a major nuisance in the Everglades and environmentalists have been working for years to curb their population to safeguard various other native species.
The snakes were first introduced in to the region in the 1980s and have since gained a significant foothold, resulting in a major decline in raccoons, opossums and bobcats as well as the near total disappearance of some rabbit and fox species.
To catch this particular individual, the team attached radio transmitters to male pythons and then tracked the snakes back to the breeding females.
"The team not only removes the invasive snakes, but collects data for research, develops new removal tools and learns how the pythons are using the preserve," the team wrote on Facebook.
"All of the python work at Big Cypress is focused on controlling this invasive species, which poses significant threats to native wildlife."
Source: The Guardian | Comments (6)
Similar stories based on this topic:
Tags: Python, Snake