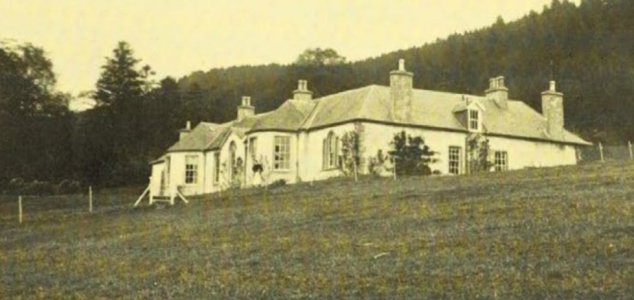 The house during the time Crowley lived there.

Image Credit: Aleister Crowley
The eerie building, which was gutted by a fire in 2015, was once owned by the infamous writer and occultist.
Situated near Foyers at the south-east side of Loch Ness, Scotland, Boleskine House was built in the 18th century in an area with a long history of peculiar happenings.
One story tells of a local minister who was said to have been tasked with returning the animated dead to their graves after they'd been brought back to life by a devious wizard.
Aleister Crowley - a man who was once regarded as 'the wickedest man in the world' - lived at the house between 1899 and 1933 and was said to have used it to conduct black magic rituals.
In later years, the building was purchased by Led Zeppelin guitarist and producer Jimmy Page however he didn't spend much time there and it was subsequently sold on again.
The house's most recent owners, who have chosen to remain anonymous, had been away shopping in 2015 when they returned to find the building on fire.
The blaze caused significant damage, however a lot of the exterior wall survived intact.
What's left of the building, as well as the large area of land surrounding it, are now up for sale for $650,000. It is hoped that the new owner will be able to transform it in to an 'outstanding property'.
Given its history however, finding someone willing to live there might prove a challenge.
Source: Press Journal | Comments (22)
Similar stories based on this topic:
Tags: Aleister Crowley, Loch Ness