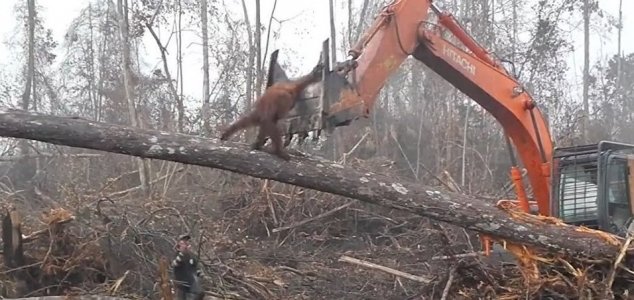 The orangutan attempted to fight back.

Image Credit: Facebook / International Animal Rescue
Recently released footage has brought in to focus the plight of animals left homeless by deforestation.
The harrowing scene was broadcast as part of naturalist Sir David Attenborough's most recent documentary '
Climate Change: The Facts
' which aired on BBC One last week.
The footage shows workers in Borneo clearing an area of forest to make room for palm oil plantations, a practice that has been responible for the destruction of the habitats of countless different species.
The star of the video however is undoubtedly the lone orangutan that can be seen hurtling along a downed tree and slamming his fists down on the bucket of the digger.
Unable to stop the metal behemoth, the ape ends up being shooed from the scene by workers.
"Right now we are facing our greatest threat in thousands of years: climate change," said Sir David. "At the current rate of warming we risk a devastating future."
"The science is now clear that urgent action is needed. What happens now and in these next few years will profoundly affect the next few thousand years."
"We are facing a man-made disaster on a global scale."
Source: Lad Bible | Comments (10)
Tags: Orangutan, Forest