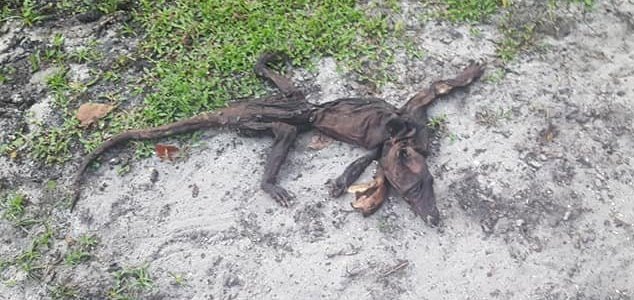 What exactly is this thing ?

Image Credit: Facebook / Kelly Garrahan
The shrivelled-up remains of a mysterious four-legged creature were found recently on a property in Titusville.
When Kelly Garrahan snapped a photograph of an unidentified carcass discovered on her five-acre property by her boyfriend on Friday, it quickly managed to generate quite a buzz on social media.
"I found this in my yard... has anyone seen this thing before or know what it could be?" she wrote.
Measuring approximately 3ft in length, the four-legged creature appears to have mostly shrivelled up in the hot sun however it is still possible to discern at least some of its features.Social media users have been quick to put forward all manner of "out there" explanations ranging from the legendary blood-sucking Chupacabra to an extraterrestrial visitor and even "the skin of a demon".
More sensible suggestions meanwhile have included an opossum, a coyote and a dog with mange.
"I just want to know what it was, I'm new around her and I was like I don't know what kind of animals Titusville has," Kelly wrote.
Source: Click Orlando | Comments (27)
Tags: Creature, Florida