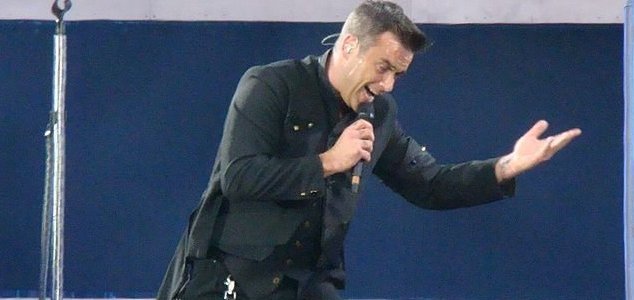 Williams claims that the song was about actual angels.

Image Credit: CC BY-2.0 vagueonthehow
The British singer has claimed that his hit song 'Angels' was inspired by his childhood paranormal experiences.
Williams, who found fame as a member of the 90s band 'Take That', has held a life-long interest in UFOs and the paranormal and has often spoken out about his own experiences.
Most recently, it has emerged that the best-selling singer based one of his most successful songs -
Angels
- on his experiences with paranormal entities when he was a child.
In an interview with
The Sun
, Williams described being connected to "something unseen" and joked that he had "freaked his father out" as a toddler by talking to things that weren't there.
"There hasn't been a moment of my life when I haven't been aware of the presence of something unseen," he said. "The very first song I wrote was Angels and it's about actual angels."
"People think it's about my mum or think it's about somebody I loved, but it's actually about angels."
Williams also credits his success in music to his spiritual experiences.
"I had lucid dreams," he said. "There's been UFOs, one close enough I could throw a tennis ball. I used to call them ghosts but I don't anymore as I don't know what they are."
"If it wasn't for my belief or semi-belief or trying to understand what it is I see and feel every now and again I wouldn't be where I am."
Source: Yahoo! News | Comments (8)
Tags: Robbie Williams, Ghosts