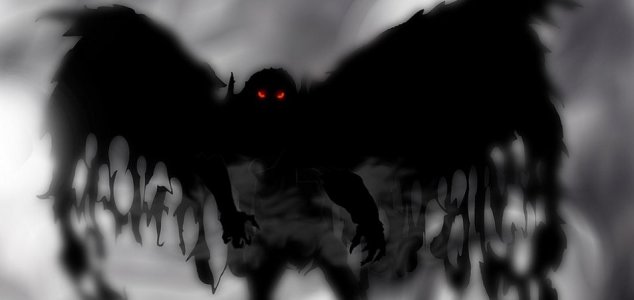 Did Chernobyl workers see a dark, red-eyed creature prior to the disaster ?

Image Credit: PD - Steve Baxter
In the run-up to the infamous nuclear disaster, several workers claimed to have seen a strange creature.
On April 26th, 1986, the catastrophic accident that befell the No. 4 nuclear reactor at the Chernobyl Nuclear Power Plant in northern Ukraine would not only result in the deaths of several dozen people, but also reduce the life expectancy of thousands more while leaving the whole area uninhabitable.
In the months prior to the disaster however, some of the workers at the nuclear plant believed that they had seen a strange creature - the Black Bird of Chernobyl - that would later be regarded as an omen of impending doom in much the same way as Point Pleasant's infamous Mothman.
There are several different versions of the story, but it is said that at least five workers at the plant reported witnessing a "large, dark headless creature with gigantic wings and fire red eyes."
Some also experienced nightmares and reported receiving threatening telephone calls.
"The legend states that in the days leading up to April 26, 1986, that a supernatural creature was sighted in the sky over Chernobyl by many of the men in the control room," archaeologist Robert Maxwell, who had previously worked at the site, told news.com.au.
"They also claimed to have seen this terrifying creature just before the explosion."
But just how much truth is there to these accounts ?
"Now it's become one of those fables that's difficult to track because it relies on the accounts of people who died due to radioactive contamination," said Maxwell.
"So, for people trying to check the voracity of these claims, of course, you've got to take them on face value because there's not a lot of history or archaeology to go on."
"But the stories persist, even to this day."
Source: News.com.au | Comments (26)
Tags: Chernobyl, Black Bird