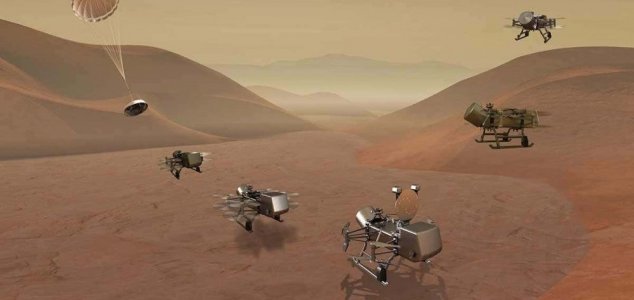 Dragonfly will be able to cover hundreds of miles.

Image Credit: NASA
A new $850 million drone-like lander will be venturing on to (and above) the surface of Saturn's enigmatic moon.
The mission, which was picked as part of NASA's New Frontiers program, is being headed up by Elizabeth Turtle of Johns Hopkins University Applied Physics Laboratory.
The lander itself looks very much like a drone with eight rotors that will enable it to not only land on the surface of Titan, but also to 'hop' between areas of interest once every 16 days.
"Titan is an incredibly unique opportunity scientifically," said Turtle. "Not only is it an ocean world - an icy satellite with a water ocean in its interior - but it is the only satellite with an atmosphere."
"And the atmosphere at Titan has methane in it, which leads to all sorts of rich organic chemistry happening at even the upper reaches of the atmosphere."
The nuclear-powered probe is expected to spend several years exploring over a wide area.
"We have the capacity, over the mission's lifetime, to go hundreds of kilometers," said Turtle. "One of the advantages we have is that we can always scout the next site. We can fly ahead, look at it, see what kind of terrain there is, and decide whether we want to go there or elsewhere."
The mission is set to launch in 2026.
Comments (38)
Tags: Dragonfly, Titan