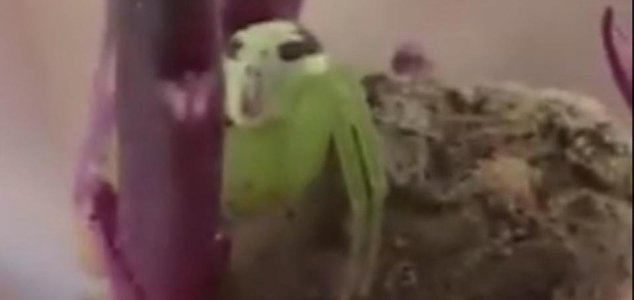 It is unclear what species of spider this is.

Image Credit: Twitter / @PDChina
A woman in China recently came across this strange spider which has what looks like a face on its back.
The peculiar green arachnid, which was reportedly discovered on a plant by a woman in the Hunan region of Central China, quickly went viral on Chinese social media due to the pattern on its back which looks strikingly like an alien face with two eyes, a nose, a mouth and even hair.
"Has spiderman been found?" the People's Daily China wrote.
"This spider with a human-like face on its back was found at a home in C China's Hunan and has gone viral on Chinese social media. Do you know its species?"
One possibility is that the arachnid is some sort of orb web spider - more specifically a kidney garden spider or pale orb weaver - which is known to have face-like markings on its back.
Whether anyone has ever seen one that looks quite like this however remains unclear.
Source: India Today | Comments (9)
Tags: Spider