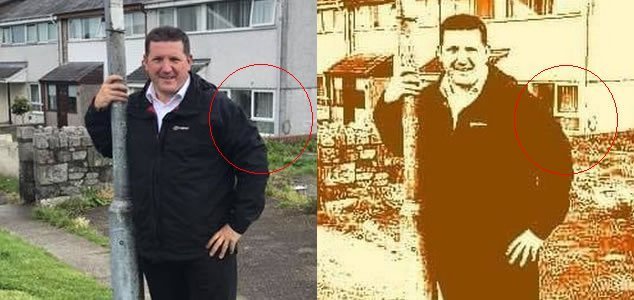 Is there a ghost in this picture ?

Image Credit: Facebook / Jason Wayne Parry
When Jason Wayne Parry had his picture taken recently, he had failed to notice what was lurking behind him.
Parry, who is the town councillor for Caernarfon, Wales, had been working on a campaign to highlight the problem of dog mess being left in the street when the photograph was taken.
"I was putting up signs warning against dog fouling in the area to bring attention to the problem we have in the estate," he told
North Wales Live
.
"When I do jobs like that, I like to take a photo and share it on my Facebook page to let people know what's being done."
"I was leaving work the other day and someone ran up to me and asked if I had noticed anything strange about the photo I'd put up."
"She had said it was her friend's home in the background of the photo and while they were looking at it, they noticed something unusual in the window."
It wasn't until he had a friend enhance the image that the alleged 'ghost' became clear.
The anomalous figure, which is admittedly difficult to make out, can be seen over his shoulder in front of the window - it appears as an indistinct shape that slightly stands out against the background.
But is this photograph really evidence of the paranormal or could there be another explanation ?
You decide.
Source: Daily Record | Comments (38)
Similar stories based on this topic:
Tags: Ghost, Wales