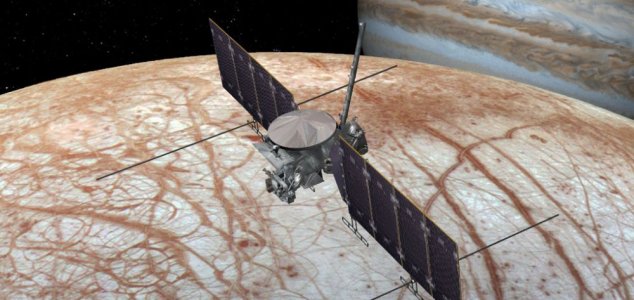 Could life exist in Europa's subsurface ocean ?

Image Credit: NASA/JPL-Caltech
An ambitious endeavour to unlock the mysteries of Jupiter's moon Europa is finally moving ahead.
When it comes to seeking out signs of extraterrestrial life within our own solar system, no target has proven more tantalizing than Europa - a world thought to be home to a potentially habitable ocean of liquid water hidden deep underneath a thick icy exterior shell.
With this in mind, NASA's long-planned Europa Clipper mission has now passed its most crucial milestone yet, meaning that the final design and construction of the spacecraft can finally begin.
"We are all excited about the decision that moves the Europa Clipper mission one key step closer to unlocking the mysteries of this ocean world," said NASA's Thomas Zurbuchen.
The mission, which is scheduled for launch in 2025, has been in the planning stages for years.
Designed to investigate Europa's mysterious ocean, the spacecraft will be equipped with nine science instruments including an ice-penetrating radar to measure the thickness of the ice.
It will also be brimming with cameras to capture the clearest views yet of Jupiter's icy moon.
"This is a big deal," wrote The Planetary Society's Casey Dreier.
"It has taken decades to reach this point."
Source: BBC News | Comments (7)
Similar stories based on this topic:
Tags: Europa, Clipper, Jupiter