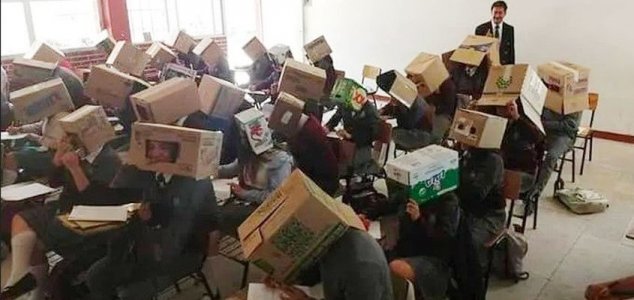 Is this really the best way to stop cheating during an exam ?

Image Credit: Facebook
A school in Mexico has come under fire after a teacher made the students wear boxes in a bid to deter cheating.
Campus director Luis Juarez Texis of the College of Bachelors in the Mexican state of Tlaxcala has been accused of 'humiliating' his students and violating their basic human rights by making them put cardboard boxes on their heads to prevent them from looking at each other's papers.
A photograph of the class later went viral after some of the parents shared it on social media.
"We denounce these acts of humiliation, physical, emotional and psychological violence, to which the students of Campus 01 El Sabinal, Tlaxcala, are subjected," they wrote.
"As parents concerned about the academic training of our children, we beg the federal and state educational authorities and institutions that ensure the rights of young people to act immediately."
The incident echoes a similar case in Thailand in 2013 when students were forced to wear special "anti-cheating" helmets made out of sheets of paper.
Despite the parents' outrage however, many social media users have congratulated the school on finding an efficient way to ensure that its students don't cheat during exams.
It remains to be seen whether or not the teacher will be taken to task over the incident.
Source: Mexico Daily News | Comments (13)
Similar stories based on this topic:
Tags: School, Exams