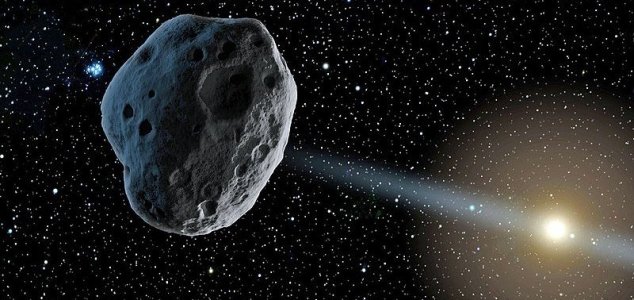 Could this be our first ever glimpse of 'alien water' ?

Image Credit: NASA/JPL-Caltech
Astronomers have determined that comet 2I/Borisov could be carrying water from a distant solar system.
First observed on August 30th, the comet, which is the second confirmed interstellar object to visit our solar system, is in a hyperbolic orbit and is larger than 'Oumuamua which was discovered in 2017.
It will reach its closest approach to the Sun (perihelion) in December, thus giving astronomers a rare opportunity to observe it in as much detail as possible before it disappears off into interstellar space.
Such observations have already revealed that cyanogen gas is being ejected from the comet's surface and now a team headed up by Adam McKay from NASA's Goddard Space Flight Center in Maryland has discovered something even more exciting - possible evidence of water.
By using the Apache Point Observatory in New Mexico to study the light being reflected off the surface of 2I/Borisov, the researchers have been able to detect large amounts of oxygen - a potential sign of water ice turning from a solid to a gas as the comet warms up from the heat of the Sun.
"If a water molecule sublimates off the surface, it gets released as water vapor," said McKay.
If the team is correct, this would be the first time that water from a distant part of the cosmos has been detected here in our own solar system.
Some scientists have theorized that comets like this one could potentially carry microbes from one planet to another, spreading life throughout the universe.
Studying 2I/Borisov could also teach us much about the origins of our own solar system.
"Are we special as a planetary system or are a lot of planetary systems like ours ?" said McKay. "That has implications for the origin of life, and how common life is throughout the universe."
Source: New Scientist | Comments (6)
Tags: Borisov, Comet, Interstellar