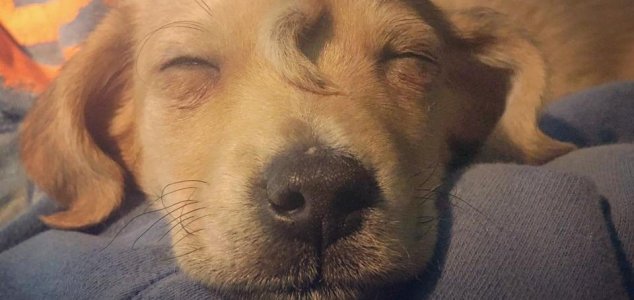 This is one unusual, yet adorable dog.

Image Credit: Facebook / Mac the Pitbull
Meet Narwhal, an adorable rescue dog from Missouri who happens to have a very unusual appendage.
At ten weeks old, Narwhal the 'unicorn puppy' would seem to be just like any other dog his age if it wasn't for one small detail - he has a second tail sprouting from his forehead.
Currently a guest at Mac's Mission for pets in Jackson, Missouri, the plucky little canine has proven a major hit since photographs of him were posted up on social media.
He was found on the street by a stranger alongside another dog who was also rescued. He had been suffering from frostbite on two of his toes due to the very cold weather.
According to reports, his additional tail isn't actually connected to anything, however his rescuers are being cautious and won't put him up for adoption until they are sure it won't cause him any problems.
It isn't clear how Narwhal ended up with his peculiar appendage however it is thought that a phenomenon known as canine fetal absorption could be to blame.
Whatever the case, there are no plans to remove it.
"He's literally the most magical thing you've ever seen, and so happy," said founder Rochelle Steffen.
You can find more photos and videos of Narwhal on the group's Facebook page -
here
.
Source: Science Alert | Comments (5)
Similar stories based on this topic:
Tags: Dog, Puppy, Unicorn