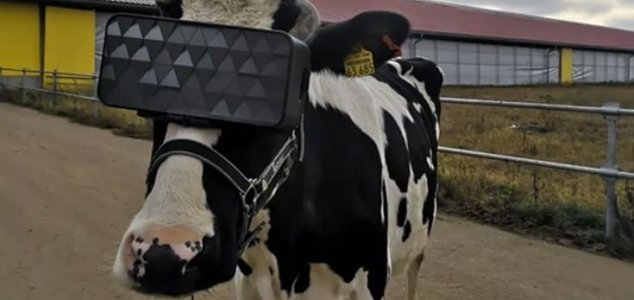 Is this the future of dairy farming ?

Image Credit: Ministry of Agriculture and Food of the Moscow Region
A rather bizarre experiment in Russia has seen dairy cows being equipped with virtual reality headsets.
It might seem like an out-of-season April Fools' joke, but the above photograph is reportedly the real deal - a cow wearing a working virtual reality headset as part of a strange experiment designed to determine if a virtual environment can help to reduce anxiety and improve milk yield.
The research, which is being carried out on a farm near Moscow, is so peculiar that it isn't exactly clear whether this is a genuine experiment or some sort of promotional exercise.
According to a press release, the virtual reality headset had to be specially adapted to fit the animals.
Software developers were also hired to develop a "unique summer field simulation program" that would appeal to cows and make them feel more relaxed.
It is certainly not outside the realms of possibility that this is a serious scientific study, especially given that similar experiments have been carried out before.
Some farmers have even tried playing music to cows to see if it helps them produce more milk.
Whether exposing the animals to a VR simulation will have any effect however remains unclear.
Source: The Verge | Comments (7)
Similar stories based on this topic:
Tags: Russia, Cows, Virtual Reality