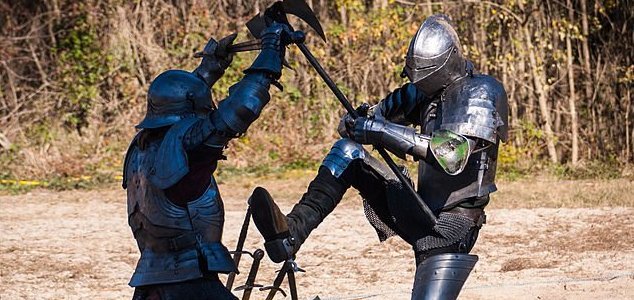 Tis but a scratch.

Image Credit: CC BY-SA 2.0 getmahesh
A Kansas man has requested a duel with his ex-wife and her lawyer to 'resolve their dispute on the field of battle'.
Seemingly fed up with the prospect of more courtrooms and legal wrangling, David Ostrom decided that the best way to settle his differences with his ex-wife's lawyer Matthew Hudson was to challenge him to a battle of a different kind - one involving swords and a considerably higher risk of decapitation.
In a court filing on January 3rd, Ostrom claimed that Hudson and his ex-wife had 'destroyed' him (legally speaking) during a spate of legal disputes over property tax payments and visitation issues.
He went on to claim that the judge had the power to allow he and Hudson to "resolve our disputes on the field of battle, legally" and that trial by combat "has never been explicitly banned or restricted as a right in these United States."
He also asked for 12 weeks to prepare so that he could acquire Japanese samurai swords.
"I think I've met Mr Hudson's absurdity with my own absurdity," he said.
Hudson replied by pointing out that if one of them actually died during such an exercise, "such ramifications [would] likely outweigh those of property tax and custody issues."
The judge went on to state that due to 'irregularities' in the responses from both sides he won't be issuing a decision on the matter anytime soon.
Source: The Guardian | Comments (39)
Similar stories based on this topic:
Tags: Sword, Japan