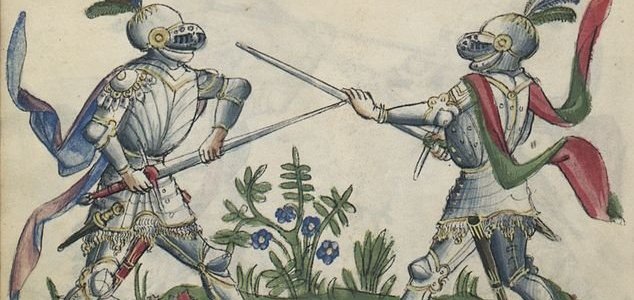 Was the man killed during some sort of battle ?

Image Credit: Public Domain
Scientists have uncovered the remarkably well-preserved remains of a medieval man with an iron sword.
The discovery, which dates back 500 years, was made during an underwater inspection of the old Dubingiai bridge in Lithuania's Lake Asveja as part of efforts to reinforce its beams with metal poles.
The skeleton, which exhibited a surprisingly high level of preservation, had been covered by mud and silt at the bottom of the lake over time and was not thought to have been purposefully buried there.
While it is not clear exactly how the man died, he was found with a number of items including a pair of leather boots with spurs, a buckled leather belt, an iron sword and two knives with wooden handles.
Previous surveys had suggested that a much older bridge stood at the same spot in the 16th or 17th century, indicating that the man may have fallen off it or had been thrown into the water.
In all likelihood, he was some sort of soldier who was either passing through or stationend in the area.
"For now, we assume that those discovered human remains could be linked with the former bridge leading to Dubingiai castle, which was situated on the hilltop on the shore of Asveja Lake," said archaeologist Elena Pranckenaite from Klaipeda University.
Efforts are now underway to learn more about the man and how he came to be there.
Source: Live Science | Comments (2)
Similar stories based on this topic:
Tags: Medieval, Sword