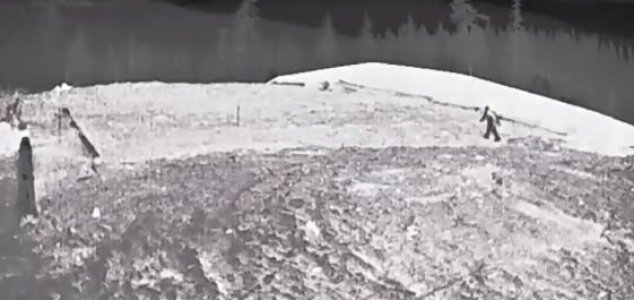 This is the second sighting in the space of a week.

Image Credit: Twitter / @SnoqualmiePass
Authorities in Washington have recorded footage of a figure trudging through the snow near Snoqualmie Pass.
A few days ago we reported that the Washington state Department of Transportation had captured the
image of a large figure
walking through the snow near some trees in Sherman Pass.
Now another of the department's official webcams has picked up something unusual - this time on the wildlife overcrossing on I-90 to the east of Snoqualmie Pass.
While the previous sighting had consisted of only a single still frame however, this alleged Bigfoot was captured on full-motion video as it trudged up a steep incline through the snow.
At one point in the footage, the figure briefly looks back, a bit like the infamous Patterson-Gimlin Bigfoot that was captured on camera at Bluff Creek, Northern California in 1967.
"I think Bigfoot is making the rounds across our mountain passes," the Twitter post reads.
So could this be evidence of the elusive cryptid or is it just a person walking along ?
You can check out the video for yourself below.
Source: Twitter | Comments (32)
Similar stories based on this topic:
Tags: Bigfoot