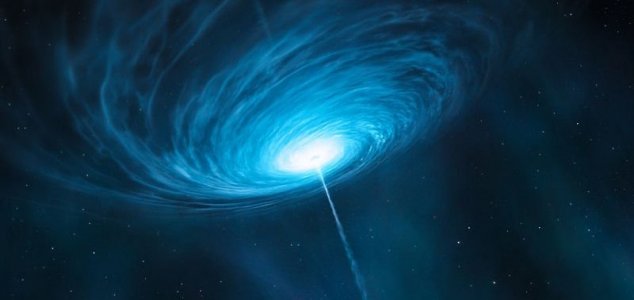 The galaxy in question is dominated by a quasar.

Image Credit: ESO/M. Kornmesser
For the first time ever, scientists have discovered evidence of molecular oxygen in a distant galaxy.
Despite being the third most abundant element in the universe, oxygen has proven surprisingly difficult to locate outside of the confines of our own solar system.
This most recent discovery - which marks only the third ever extrasolar detection and the first ever outside of the Milky Way galaxy - could tell us much about the incidence of oxygen out in space.
It was found a whopping 561 million light years away in the Markarian 231 galaxy which also happens to be home to a quasar - a very luminous galactic nucleus with a supermassive black hole at its center.
"With deep observations toward Markarian 231 using the IRAM 30 meter telescope and NOEMA (NOrthern Extended Millimeter Array), we detected [molecular oxygen] emission in [an] external galaxy for the first time," the researchers wrote.
"The detected O2 emission is located in regions about 10 kpc (32,615 light-years) away from the center of Markarian 231 and may be caused by the interaction between the active galactic nucleus-driven molecular outflow and the outer disc molecular clouds."
Not only is this the first detection of oxygen in another galaxy, but the amount detected is also more than has ever been found anywhere outside of our own solar system.
The find could help scientists learn more about the molecular outflow from such galactic nuclei.
"This first detection of extragalactic molecular oxygen provides an ideal tool to study active galactic nucleus-driven molecular outflows on dynamic timescales of tens of megayears," the team wrote.
Source: Independent | Comments (9)
Similar stories based on this topic:
Tags: Oxygen, Galaxy