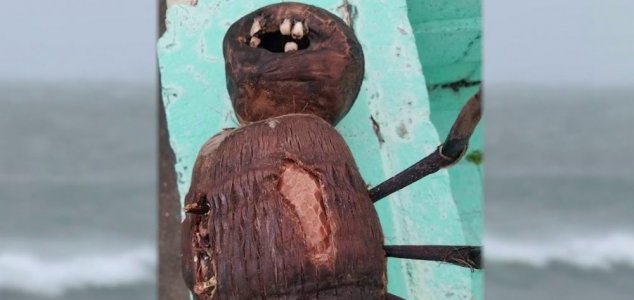 Not something you typically find on the beach.

Image Credit: YouTube / WKMG News 6 ClickOrlando
A beachgoer in Cape Canaveral, Florida recently came across a rather disturbing object washed up on the sand.
Fashioned from coconut shells, snakeskin, feathers and sticks, the creepy doll - which appeared to be vagely human or spider-like in design - was discovered on Thursday by Bruce Robertson
Most disturbing of all however was the fact that it appeared to have actual human teeth in its mouth.
"It was a rather strange doll made out of coconuts," he said. "What was really sort of terrifying or horrifying or interesting was it had actual human teeth."
Believing it to be some sort of Voodoo doll, Robertson cast the object back into the ocean.
Later however, after doing some research on it, he determined that it it may have actually represented the African spider god Anansi and may have originally been a type of good luck charm.
"It was the God of slaves that came from Ghana to the Caribbean and they used it for good luck and protection," he said. "We were quite relieved to find out it wasn't a Voodoo doll."
You can check out a local news report about the discovery below.
Source: News4jax.com | Comments (4)
Tags: Voodoo, Doll