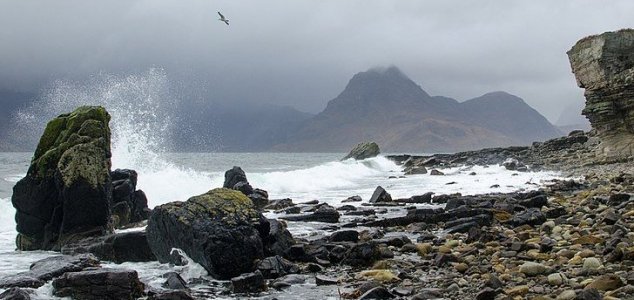 The Isle of Skye.

Image Credit: CC BY 2.0 Neil H
Scientists have discovered dozens of fossilized footprints on the picturesque Isle of Skye in Scotland.
The wild and rugged island, which is situated just off the country's west coast, was home to a wide variety of dinosaur species some 170 million years ago during the Middle Jurassic era.
Now palaeontologists led by Paige dePolo at the University of Edinburgh have identified a number of previously unseen fossil footprints left in ancient coastal mudflats at two separate sites.
"The new tracksites help us get a better sense of the variety of dinosaurs that lived near the coast of Skye during the Middle Jurassic," she said.
Among the footprints are those of Deltapodus - a type of Stegosaur that grew up to 30ft long. The find represents the first time this species has been linked to the island.
There are also three-toed footprints that may have belonged to some early bird-type dinosaurs.
"We knew there were giant long-necked sauropods and Jeep-sized carnivores, but we can now add plate-backed stegosaurs to that roster, and maybe even primitive cousins of the duck-billed dinosaurs too," said study co-author Dr Steven Brusatte.
"These discoveries are making Skye one of the best places in the world for understanding dinosaur evolution in the Middle Jurassic."
Source: BBC News | Comments (1)
Similar stories based on this topic:
Tags: Dinosaur