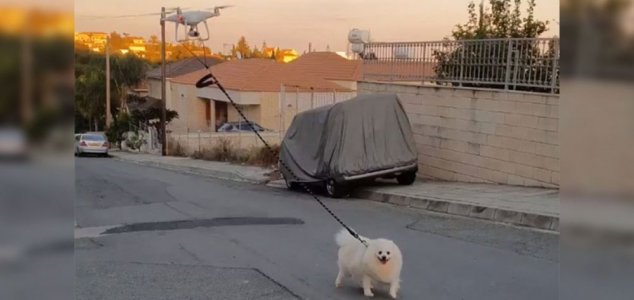 This is one way of taking your dog for a walk.

Image Credit: Instagram / vakis78
Some people have found ingenious new ways of carrying out everyday tasks without going near other people.
In the second movie of the 'Back to the Future' trilogy, Marty visits the futuristic year of 2015 where, among others things, we see a dog being walked down the street by an autonomous floating leash.
While we haven't quite caught up with this idea in 2020, one social media user - Vakis Demetriou -recently revealed the next best thing - a video showing him walking his dog using a drone.
Taking full advantage of the tools available to him at a time when going out isn't an option, Vakis, who hails from Cyprus, decided to tie the dog's lead to a small remote-controlled drone and have it walk the animal down the street outside his house while he controlled it from his garden.
While the practically of doing this on a daily basis is questionable, it at least demonstrates that the idea of having a machine take over dog-walking duties is not all that far-fetched.
"Stay home to be safe but don't forget your dog's happiness," he wrote.
Source: New Zealand Herald | Comments (14)
Similar stories based on this topic:
Tags: Dog, Drone