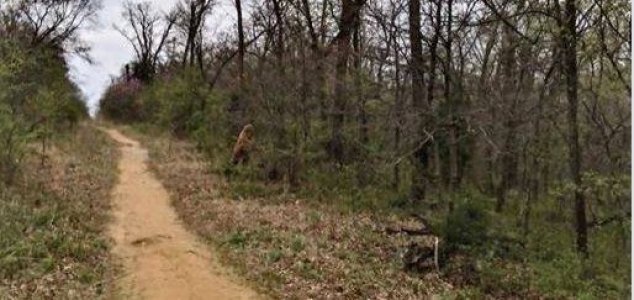 Is this Bigfoot or someone in a costume ?

Image Credit: Facebook / Turkey Mountain Urban Wilderness Area
Visitors to the Turkey Mountain Urban Wilderness Area have been reporting sightings of a strange creature.
In a post on the region's official Facebook page, officials noted that they had received a number of reports from visitors who had described seeing a Bigfoot-like creature in the area.
"Over the weekend, we received dozens of calls and messages reporting a 'sighting' at Turkey," the post reads. "While we investigate the matter, this seems like a good time for us to remind you that social distancing of 6ft is required when at Turkey Mountain."
The wilderness, which cover a 300-acre area of undeveloped land in Tulsa, Oklahoma, has proven a popular destination for those looking to take a break from the monotony of isolating at home.
Images of the 'Bigfoot' show a light-brown bipedal ape partially obscured by bushes and trees, however it remains impossible to discount the possibility that it is simply someone in a costume.
You can check out some additional photographs below.
Is this a real Bigfoot or is it someone pulling a prank ? You decide.
Update:
The mystery has been solved -
here
.
Source: Fox23.com | Comments (21)
Similar stories based on this topic:
Tags: Bigfoot